Since I can't just cram them in one day, I'll do a double post in one post. here goes.
At last, the casts for the 2010
Super Sentai
series,
Tensou Sentai Goseiger
, have already been confirmed! The cast are as follows:
Arata/GoseiRed - Yudai Chiba
Aguri/GoseiBlue - Kyousuke Hamao
Hyde/GoseiBlack - Kento Ono
Eri/GoseiPink - Rika Satou
Mone/GoseiYellow - Mikiho Niwa

It seems the the first rumored cast list is true.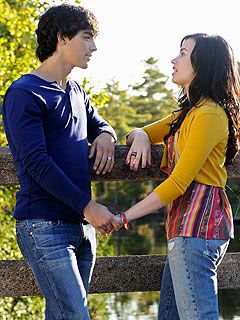 Above is the first image from
Camp Rock 2: The Final Jam
, which is due out next summer!
Joe Jonas
shares "There's a lot more romance with my character and even with Nick's character. The romance, the singing and dancing – everything is bigger and better." Joe elaborates on his character's romance with Mitchie (played by
Demi Lovato
). "They want to spend more time together but [finding time is a bit] difficult for them to do, because she is trying to help out the camp as much as she can."
"They are so easy to work with and we just hangout and have fun," Demi shares about working with the
Jonas Brothers
again. "They are like my brothers and they are my best friends. They always make me laugh."
The film will focus on the Camp Rockers while a new state-of-the-art camp, Camp Star, moves in across the lake.
Kevin
and
Nick
, who had small roles in the first film, will have story lines of their own in the sequel. "Bonus Jonas"
Frankie
will also appear in the film.

Nick's character falls for the daughter of Camp Star's owner, played by

Chloe Bridges

. "
It's good when you feel comfortable with the person and we're friends." Meanwhile, Kevin's character has no lover interest and is just a camp counselor.
Well, what do you think? Are you pumped?!
Credits to
JEFusion
and
HM Disney Stars
for the news.